Description
PRODUCT TYPES: AGEclean is an advanced monolithic conveyor belt, made from TPU- thermoplastic polyurethane material- in dark blue color; these are currently available in two types' viz. FERK-3 and FERK-3- T50 for different applications with Aramid reinforcement for length stability with cut and abrasion resistant properties with 95 Shore A hardness. Key specs & characteristics are as under.
| | | |
| --- | --- | --- |
| AGEclean™ Belts (Types) | FERK-3 (Flat friction drive) | FERK-3-T50 (Toothed belt positive drive) |
| Material | TPU | TPU |
| Anti-microbial | YES | YES |
| Anti-hydrolysis | YES | YES |
| Base belt thickness | 3 mm | 3 mm |
| Height of teeth | n/a | 4.5mm |
| Tensile Strength | 13 N/mm | 13 N/mm |
| Minimum Pulley Dia | 90mm | 100mm |
| Aramid Cord Spacing | 10mm | 10mm |
| Temperature Range | -40°C to +90°C | -40°C to +90°C |
FEATURES
AGEclean is an innovative and versatile replacement of plastic modular chain in food process conveying; designed to improve hygiene and substantially reduce cleaning cost. It is made from a non-fraying, polyurethane jacket material with sealed edges that prevent ingress of microbes. Being a homogeneous belt it lowers the surface area that needs to be cleaned by as much as 40%. This greatly reduces cleaning and sanitization bills by reducing labour & chemical usage.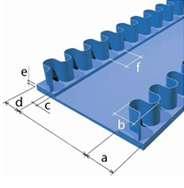 AGEclean's easy-to-clean smooth surface reduces the risk of microbial contamination and its High Strength- Low Stretch (HSLS) Aramid cord tension members minimize belt stretch while improving belt stability in operation. Reduced re-tensioning need also extend the belt life.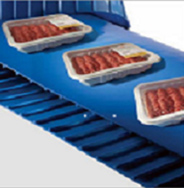 AGEclean's oil resistant; food grade belts are compatible with wash down environments and suitable for meat, poultry and dairy processing equipment. It can handle the standard to high loads and is particularly well-suited for cleated belts.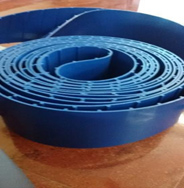 BENEFITS
Increases efficiency & production whilst lowering water consumption, cleaning time and overall reduction in bacteria counts by controlling in-process bacterial growth.
Reduces cleaning labor up to 50%, water usage up to 55%
Fabricators can easily slit roll stock without damaging tensile member
Drop-in replacement for most 1″ and 2″ plastic modular belt
Reduces or eliminates the need for scrubbers and return way supports
Longer belt life due to minimal belt stretch
AGEclean Accessories: The AGEclean product lines are supported by tailor made sprockets, wear strips, cleats, guides and sidewalls
AGEclean Jointing Options: Jointing AGEclean belt is quick & easy; as per the application needs it can be made endless using Finger-joint, Butt-joint and also mechanical fasteners.
AGEclean serves wide spectrum of industries including:
Meat, Poultry and Fish
Bakery and Food processing plants
Dairy
Fruit and Vegetable
Bottling and Canning plants
Packaging, Wood, Paper, and Plastic plants
Glass, Brick and Tile plants
Steel mills, Processing, Slitting and Stamping plants